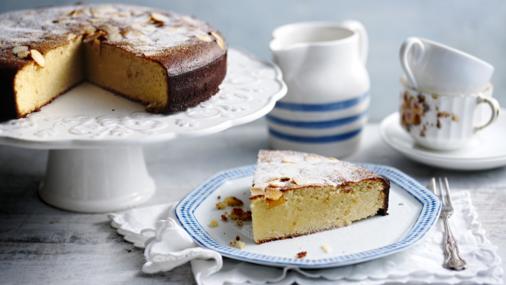 Ingredients (makes 12 muffin)
2 sharp eating apples, peeled, cored and chopped
0.5 lemon, juice only
150 golden caster sugar
4 free-range eggs
160g ground almonds
25g flaked almonds
1. Preheat the oven to 180C/375F/Gas 4. Lightly grease and line the base of a 25cm/10in springform tin with a little oil.
2. Place the apples into a pan with half the lemon juice and two tablespoons of the caster sugar. Bring to a simmer, cover and cook on a low heat for about 7-9 minutes or until the apples are soft enough to roughly mash with a fork. Do not over-mash, though. You still want a little bite and texture. Leave to cool.
3. Put the cooled purée, eggs, ground almonds, almond essence, remaining caster sugar and approximately one tablespoon of the remaining lemon juice into a food processor and blend together. Pour into the prepared cake tin and sprinkle with the flaked almonds.
4. Bake for about 25 minutes.
https://www.bbc.co.uk/food/recipes/gluten-free_apple_and_22345
Hasonló: http://www.nosalty.hu/recept/lisztmentes-almatorta